Aadhar Card Update : How to Change Address, Photo, Name in Aadhar Card Online ?
Aadhar card Update Online | Update Aadhar Card Name | Update AAdhar Card Adress | Update AAdhar Card Photo | Aadhar Card Update using mAadhar App
What Is Aadhar Card
Aadhar is a 12-digit unique number which is rolled out by the Indian government for identification purposes. It can be obtained by every citizen of India. An Aadhar number is unique for every citizen. The Aadhar card stores the name, permanent address, picture, gender, fingerprints, Iris information and age of the enrolled person in a biometric format.
If a person wants to go for an Aadhar card update, he/she can do so conveniently. Most of the time, a permanent change of location or House Shifting leads to a requirement for an Aadhar card update.
Aadhar Card Update: Details which can be Updated on Aadhar
Apart from Aadhar card address change (Aadhar card address change online), you can also change the following details:-
Name
Date of Birth
Mobile Number
Marital Status
Fingerprints
Photograph
Iris Data
Lates Update: Aadhar Card Update
December 2022: Update Aadhar Cards made 10 years Ago
In a recent notification, the Indian government has urged the Aadhar Card holders to update their cards if they were built more than 10 years ago. The Aadhar Card details can be updated at the Aadhar Sewa Kendras (ASKs). In addition to this, the Aadhar card can also be updated online.
The Aadhar card can be updated by submitting the permanent address proof and ID proof of the Aadhar card holder.
According to the official notification released on November 9, 2022, "Aadhar number holders may, on completion of every 10 years from the date of enrolment for Aadhar, update their supporting documents in Aadhar, at least once, by submitting Proof of Identity (POI) and Proof of Address (POA) documents as specified under Aadhar Enrolment Act, So as to ensure continued accuracy of their information in the Central Identities Data Repository (CIDR), in such manner as may be specified by the Authority from time to time."
Your name, residence, phone number, gender, and date of birth are all listed on your Aadhar Card. If you want to modify your Aadhar Card, you can do so by going to an Aadhar Enrolment Center or using the Unique Identification Authority of India's official website (UIDAI).
How to Update Aadhar Card Details Online?
You can update your name, date of birth, address, and gender details online. However, your mobile number must be linked to the Aadhar in order to make the changes.
The procedure to update the name, address, gender, and date of birth details online is mentioned below:
Step 1: Visit Official Website (UIDAI).
Step 2: Click on 'Proceed to Update Aadhaar'.
Step 3: Enter the Aadhar number and captcha.
Step 4: Click on 'Send OTP'.
Step 5: Enter the OTP that is sent to your registered mobile number.
Step 6: Next, select 'Update Demographics Data'.
Step 7: Select the relevant options on the next page and click on 'Proceed'.
Step 8: The changes can be made on the next page. Upload the relevant document next.
Step 9: Next, you must review the details that have been entered.
Step 10: Next, submit the change request. You can use the Update Request Number (URN) to track the status of the address change.
How to Update Mobile Number in Aadhar Card?
The procedure to change your mobile number on the Aadhar is mentioned below:
Step 1: Visit Aadhaar Seva Kendra.
Step 2: Submit the filled application form. Ensure that the correct mobile number is mentioned on the form.
Step 3: No documents need to be submitted to update the mobile number.
Step 4: The request for the update will be registered.
Step 5: An acknowledgment slip will be provided.
Aadhar Card Update using mAadhar App
If yoi are changing your address and wondering How to change address in aadhar card, you can do it using the mAadhar App. To change the house address on your aadhar card or aadhar card address change, you will have to follow the mentioned steps-
Step 1: Download the mAadhar Mobile Application. If you are not a registered user, click on the 'Register My Aadhar' option.
Step 2: Log in to your account using your Aadhar card number and OTP received on the mobile.
Step 3: Go to the option of 'Update Address Online'.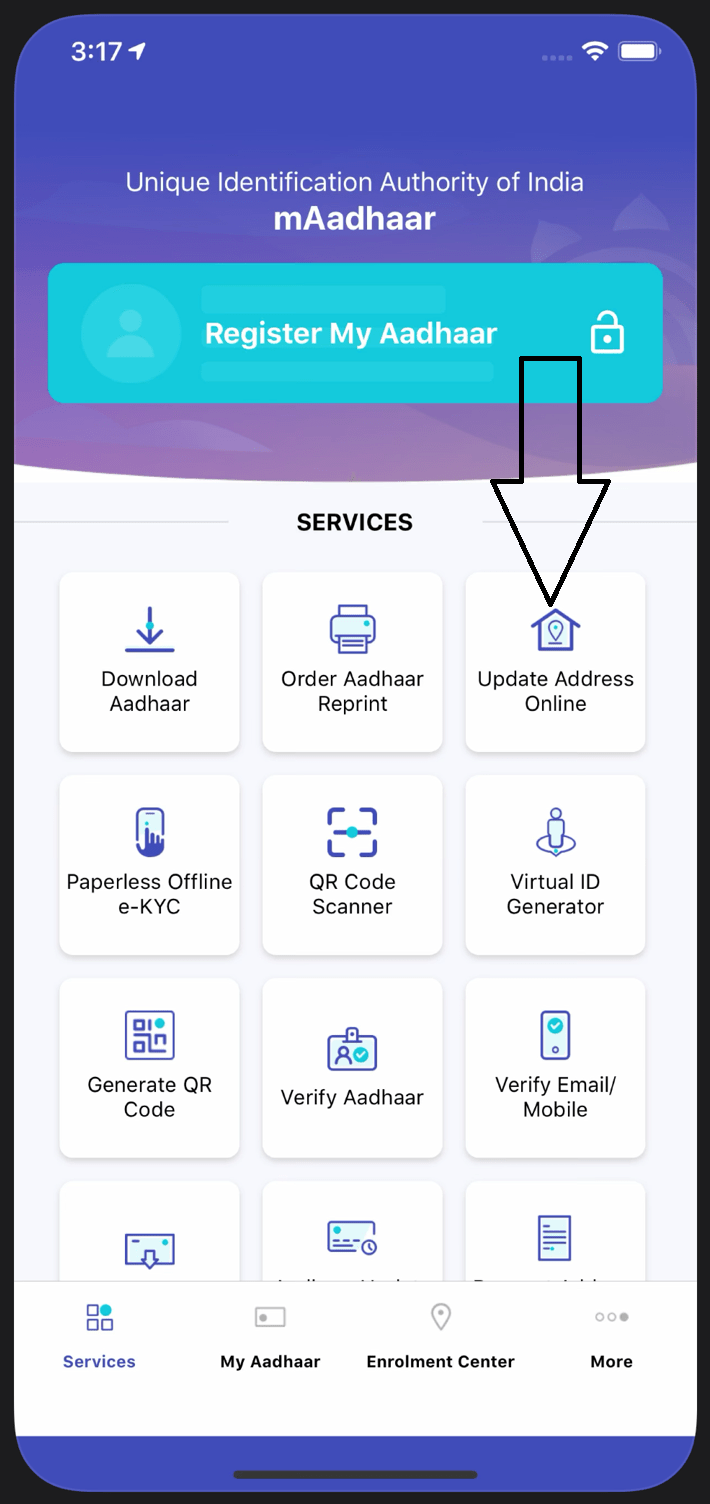 Aadhar Card Address Update Online (Aadhar card address change documents)
Step 4: You will be asked to fill in the present address details, new address details and a supporting document indicating the new address. Once filled, the internal team of UIDAI will verify the address and update the address in the Aadhar card (Aadhar card address change online). You will get your new aadhar card with the new address.
Documents Required for Updating or Correcting Aadhar Card Information
The documents required to update or make changes to your Aadhar card have been classified into four categories: .
Identity Proof – PAN Card/Passport/Driving Licence/Voter ID, etc.
Relationship Proof – Passport/PDS Card/MNREGA Job Card/Pension Card, etc.
Date of Birth Proof – Birth certificate/SLLC certificate/passport/PAN card, etc.
Address Proof – Bank Passbook or Statement/Ration Card/Voter ID/Insurance Policy etc.
To know the complete list of supporting documents required for updating or correcting details on your Aadhar Card, you can visit the official website of (UIDAI).
Q. 1 Will the Aadhar number change after any data update?
No, the Aadhar number will remain the same after the information update
Q. 2 Can I update the address using local language?
Apart from the English language, you may choose any of the following languages for updating your address on your Aadhar are Kannada, Bengali, Assamese, Gujarati, Hindi, Malayalam, Odia, Marathi, Urdu, Tamil, Punjabi, Telugu.
Q. 3 How much time will it take for my Aadhar update to happen?
It may take up to 90 days for the data to be updated on your Aadhar post the placement of request.