TANGEDCO TNEB Aadhar Link Online @nsc.tnebltd.gov.in
The Tamil Nadu Generation and Distribution Corporation is a subsidiary of Tamil Nadu Electricity Board Ltd, which is running special camps to link the customers Aadhar Card with their Electricity Board Accounts till 31 December 2022. As per the new orders of the Tamil Nadu Government the electricity service connections can be linked to the Aadhar Cards of the domestic consumers. This step has been made important to consumers to continue making them receive the subsidies on the electricity bills. In order to continue receiving the TNEB services for the future, every citizen needs to get their TNEB Aadhar Link Online.
The link has already been made official on the website. So the TN consumers can link it and get the benefits of electricity bill subsidy.
Organization
Tamil Nadu Generation and Distribution Corporation Limited
Other name
TANGEDCO
Authority
Tamil Nadu Electricity Board
Started by
State Government of Tamil Nadu
Service name
TNEB Aadhar Link
Motive
Get data about electricity consumption
Benefits
Provide subsidies to consumers
Mode of linking
Online
Article category
TNEB to Aadhar link
TNEB Deadline to link Aadhar Card
Activated now
Last date of TNEB Aadhar Link
31 December 2022
Official website
www.nsc.tnebltd.gov.in
Adhar.tnebltd.org/Aadhaar/
How to link TNEB connection with Aadhaar online
Tamil Nadu Electricity Board — TNEB — customers will have to link their EB number to an Aadhaar card.
The Tamil Nadu Generation and Distribution Corporation (TANGEDCO), a subsidiary of TNEB Ltd, is running special camps that will help customers link their Aadhaar with consumer numbers. However, a TNEB account can also be linked online.
Also read: RRB Group D Result 2022, Zone-Wise PDF Download
Here's how
Step 1: Go to the official TNEB website. As per the website, Aadhaar-linking with the service number is presently for domestic, power loom, agriculture, and hut services alone.
Step 2: Enter the TANGEDCO service connection number. It shall be entered in the format as received by SMS or as printed on the receipt.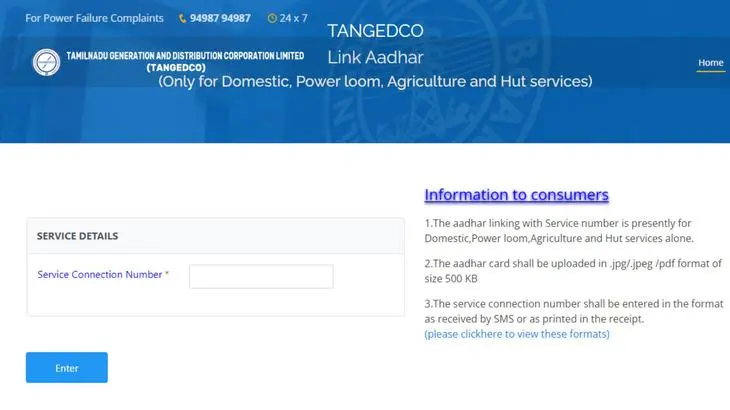 Step 3: Confirm your mobile number by generating an OTP.
Step 4: Verify your TANGEDCO account.
Step 5: Enter the details of the occupant.
Step 6: Enter the Aadhaar number that should be connected to your TANGEDCO account.
Step 7: Enter the name as per the Aadhaar card.
Step 8: Upload the Aadhaar copy. The Aadhaar shall be uploaded in JPG, JPEG, or PDF format of size 500KB.
Step 9: Submit the form and download the acknowledgment.
Benefits of Doing TANGEDCO Aadhar Card Link Online
We are all aware that the Aadhar Card is genuine and contains complete information about its holder. It is now required for all procedures, such as opening a bank account or receiving a ration, in Tamil Nadu and other states. Therefore, in order to receive future benefits from government departments, the Tamil Nadu Electricity Board now requires an Aadhar Card link to the TANGEDCO TNB Connection Number. Here in this article, we are attempting to give data On the best way to Connect AAdhaar Card to TNEB Association Number On the web.
We have gathered all of the information and have provided a straightforward method for linking your Aadhar Card to the service here. Customers who will use their electricity to pay their next bill must now link their TNEB Connection Number to their Aadhar Card. Since the connection number on your Aadhar card has not yet been update, you must complete this procedure before paying the connection bill.